Embrace the Arts Itinerary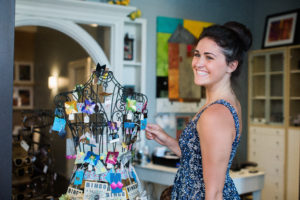 Take time to enjoy the unique and engaging spaces in Marion
Home to one of the top arts festivals in the nation, Marion residents embrace the arts. A number of public art exhibits can be found nestled in the historic Uptown Marion district and others are worth a short drive to observe. Experience the high-quality and engaging spaces that contribute to Marion's quality of life at your own leisurely pace.
The cozy ambience and tasty coffee and scones you find at Wit's End Coffeehouse will put you in the right frame of mind to appreciate a variety of art forms.
Take a stroll through Uptown Artway, the re-imagined gathering space that runs behind 7th Avenue. What was once an under-utilized alley, now features nine permanent art installations by local and national artists.
Visit the Marion Public Library and enjoy a self-guided tour of the 20 pieces of vibrant artwork in various mediums on display: marionpubliclibrary.org/art
A highlight of the permanent collection at the Marion Heritage Center is one of only three surviving frescos in Iowa, Communication by Mail. While at the Heritage Center, enjoy the other exhibits on display that help tell the story of Marion's past.
If a hands-on art experience is what you crave, consider participating in knitting classes at Village Needlework or sign up for a studio workshop at Barb's Fine Art. Find inspiration at local galleries such as DKW Gallery, Artisan's Sanctuary or The Famous Mockingbird.
Marion currently boasts three historic districts recognized by the National Register of Historic Places. Explore the craftsmanship and architecture on display within the Pucker Street Historic District, Terrace Park Historic District and Uptown Commercial Historic District. While you're in the neighborhood, consider visiting the Granger House Museum. It is the only restored middle-class family home in the Cedar Rapids area and features Victorian Italianate architecture.
With all that walking, surely you're ready for something sweet. Be sure to stop at THE chocolate SHOP, home to amazing sea salt caramels and owned by an artist. Peek around the corner and snap a quick selfie with the butterfly wings on the side of the building.
To continue with the theme of the day, consider a late lunch at Cibo Fusion, Zio Johno's Spaghetti House or Napoli's Italian Restaurant. Each restaurant offers a unique ambience, amazing cuisine and outdoor dining options.
After lunch, embark on a driving tour of Marion. The roundabout at 35th Street and Tower Terrace Road was the first completed in Marion and it features a larger-than-life tribute to the state's agricultural heritage. "Yielding" was constructed by Mt. Vernon's Dale Merrill and the patch of steel cornstalks with polished stainless steel tassels is a sight to behold.
From there, head over to Lowe Park (4500 N. 10th Street), where learning, culture and exercise collide. A visit to the park might include a stroll through outdoor demonstration gardens and an edible orchard maintained by Master Gardeners, art exhibits displayed in the LEED certified Arts & Environment Center, or self-guided tours of the sculpture trail.
You won't miss the Klopfenstein Amphitheater for the Performing Arts, located along the northern edge of the park. It is a functional work of art that features a 50-foot wide stage, a sub-stage and an oak leaf-like sculptured canopy made of Corten steel. If you time it right, you may get in on one of the community performances scheduled at the venue.
As night draws near, be sure to peruse the live theater productions playing at Giving Tree Theater or the live music scheduled at The Famous Mockingbird or Ramsey's Wine Bistro. Uptown Snug, Brick Alley Pub or Louie's Scoreboard are all fine locations to enjoy a cocktail on an outdoor patio to savor the day.