Ladies Day Out Itinerary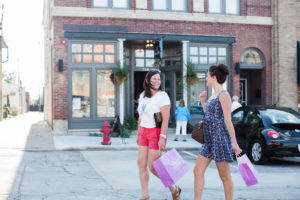 Gather your girlfriends and make your way to Marion
An easy daytrip from anywhere in eastern Iowa, peruse the small businesses that offer unique services, gifts, food, drinks and entertainment.
From your morning latte to evening lager, Uptown Marion offers a full itinerary for strolling, savoring and spending hours with friends.
Put a little pep in your step at Wit's End Coffeehouse or Kettle House Bakery as you start your day.
Find the latest in fashion at Lillian's of Marion, DiModa or JOY boutiques. Look no further than Be Inspired, SCOUT of Marion or Roots in Bloom for unique project or gift ideas. Feel like a kid again when you explore Treasure Chest Collectibles. Step back in time at the antique shops along the avenue. Satisfy your sweet tooth with a visit to THE chocolate SHOP.
After you've worked up an appetite, head over to Ramsey's Wine Bistro for a tasty lunch and glass of wine or stop at the iconic Zoey's Pizzeria for some Chicago-style pizza and a Zookie for dessert.
Take a stroll through Uptown Artway, the redefined gathering space that runs behind 7th Avenue. It features nine permanent art installations by local and national artists.
If you're ready for some rest and relaxation, perhaps a spa pedicure and manicure is in order at Sophia Nails or check to see if Urban Vintage Hair Studio & Spa or Bellezza Salon & Spa can provide some much-deserved pampering. Then include a stop at Philip's Diamond Shop to check out the latest trends in both fun and fine jewelry.
Thinking ahead to your evening plans? We have all of the tastebuds covered with a whole host of options – consider Napoli's Italian Restaurant, Mandarin Spice Asian Grill, Cibo Fusion, QDog's BBQ or authentic Mexican at Villa's Patio or La Cantina.
Take a look to see which live theater production is playing at Giving Tree Theater or check out the concert schedule for the Famous Mockingbird – both venues are known for their first-rate performances. Enjoy a nightcap at Uptown Snug or Brick Alley Pub before calling it a day.