Outdoor Adventures Itinerary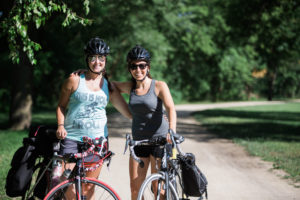 Unplug and explore the great outdoors in Marion
Relax and Recharge
Rise with the sun and immerse yourself in nature when you attend Sunrise Yoga at the Klopfenstein Amphitheater at Lowe Park (4500 N. 10th Street). Offered every Saturday at 7:30 a.m. during the months of June, July and August, this free programming is open to all ages and offered by certified instructors as part of the community's focus on well-being. Bring a yoga mat and a water bottle.
Take some time while you're at Lowe Park to enjoy the native prairie grasses, demonstration gardens and trails that take you from one end of Marion's largest park to the other. Stop to see what the Master Gardeners' are up to in their greenhouse and check out the edible orchard situated nearby.
As you make your way back into town, include a pit stop at the colorful and quaint Wit's End Coffeehouse.

If you're looking be extra productive, head over to Taube Park on 31st Street and take in the weekly Marion Farmers' Market. It hosts more than 20 vendors every Saturday between 8-11:30 a.m. Stock up on your veggies for the week and perhaps a sweet treat or bottle of wine.
Pedal Marion
If you want to feel more alive, how about biking? From Uptown Marion, pedal west to Zio Johnno's Spaghetti House to fuel up for your ride. With a few carbs to propel you, continue down 6th Avenue until you get to Thomas Park and hop on the Boyson Trail. So many trails, which way to go? The Linn County Trails Association offers a great map and overview of area trails linncountytrails.org. What's exciting is that more connections are being added all the time.
Marion is proud to be home to over 600-acres of parks and trails, and each offers different amenities. You'll find a sculpture trail at Lowe Park, rolle bolle courts at Willow Park and outdoor fitness equipment at Hanna Park. Visit the Parks and Recreation pages at www.cityofmarion.org to learn more.
Adventures Out There
Golf
Whether you have a half day or a full day to spare, head over to Hunters Ridge Golf Course for some practice at the driving range or 18 holes of bentgrass golf. Call 319-377-3500 for tee times and availability. Indian Creek Country Club stands where the Linn County Fairgrounds once stood. It is a semi-private golf course located in Marion and non-members are invited to enjoy a game of golf during open course times. Simply call 319 377-4489 for availability. Gardner Golf Course is another close option, located at the intersection of Hwy. 13 and Hwy. 100 just south of Marion. The relaxing location and rolling terrain with wide fairways and large gentle undulating greens make for an enjoyable "shot-making" experience. Call 319-286-5586 for availability.
Disc Golf
If you're looking for another kind of golf, head on over to Legion Park for some disc golf. The 19-hole course is located in Legion Park, which is adjacent to Thomas Park. Enjoy the secluded, natural setting with alternating open and wooded holes. The winding creek adds to the challenge. Find a map of the holes under Parks and Recreation at www.cityofmarion.org. If you're new to the sport, no worries! Hy-Vee Drug in Marion carries the equipment you need to get started.
Camping
Squaw Creek Park, located on the southeast side of Marion, just west of Hwy. 13 off Hwy. 100, offers a quiet reprieve from bustle of the metro area. This 700-acre park provides opportunities for picnicking, camping, winter activities, mountain biking, horseback riding and more. Squaw Creek Park offers 69 campsites with a modern, state-of-the-art restroom and shower facility. Campgrounds are usually open April 15 to October 15, ground conditions permitting. It is also home to an off leash dog park where dogs get to run free and socialize with their canine friends. Learn more about the park and its amenities when you search Linn County at www.mycountyparks.com.
Beat the Heat
Marion offers guaranteed fun for the wee ones at the splash pads at Thomas Park and Gill Park. They are operational from 11 a.m.-7 p.m. daily. A third splash pad is located within the Marion Pool complex at Willowood Park and operates on the pool schedule.
Nothing beats a refreshing dip in the pool. The Marion Pool is open through Labor Day and offers both lap swim and open swim. Lap swim begins at 11 a.m. Open swim is available from 12:30 p.m.–7 p.m. Monday through Friday and from 12:30-5 p.m. on Saturdays and Sundays. Soak up some sun and make some memories with your loved ones this summer.
You can't make a visit to the pool without including a stop at the local ice cream shop in your plans. No matter which direction you're going – we have you covered! The Freeze is calling your name on S. 11th Street, Dairy Queen is tempting you on 7th Avenue and Parlor City is ready to treat you on N. 10th Street.