Explore Marion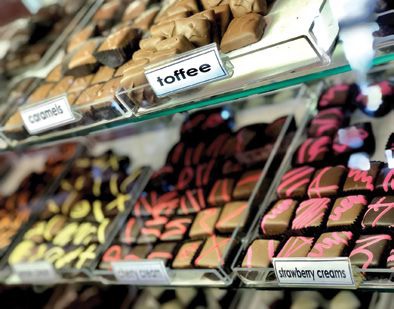 Follow the itinerary below to discover shopping and great food throughout the town

1. Mocha latte, anyone?
Marion's first Starbucks opened in 2020. You'll find Dunkin' Donuts and Scooters on west end of 7th Avenue.
2. Relax and revitalize
Escape the hustle and bustle of daily life at The Sanctuary Spa. From facials to massage to nail services, enjoy the pampering you deserve. Call to inquire about the spa party concierge service. If someone in your party is in need of a trim (or beard trim), check out Trims Barber Shop, which has options for adults and kids.
3. Eat some delicious tacos…maybe with a margarita
La Cantina's* friendly staff serve delicious Mexican food, including fajitas, enchiladas, and more. Or, if you're in a hurry, grab a quick sub from Jersey Mike's.
4. See a film for a great price
Enjoy the classic way to see a movie – in an actual theater! Collins Road Theatres has popcorn with REAL butter!
5. Take a snack break
It's capitalized for a reason…you can't miss THE chocolate SHOP in Marion, conveniently located on 7th
Ave. A few blocks over, you'll find the home of Iowa's premier popcorn – Iowa Popcorn Company.
6. Shop for shoes and more
The Collins Square Shopping Center features a variety of places to shop. Head to LOFT and the affordably priced MODE boutique if you're looking to freshen up your wardrobe. If shoe shopping is more your thing, check out the high-quality options at Brown's Shoe Fit.
7. Sushi, Italian, or BBQ, Marion has it all
Before or after the movie, head next door to Mandarin Spice Asian Grill. If you're thinking Italian is more your style, Napoli's delicious pasta is just a short jaunt away. Heading back east? Check out QDogs BBQ for pork sliders, nachos and more.
*Outdoor seating available